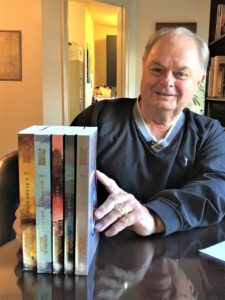 Contact Info
Phone: 832-878-2865
E-Mail: steve.nielsen@att.net
Availability: Houston, Galveston, Texas; Arizona, California, Idaho, Nevada, New Mexico; Denmark, England
Social Media
Add to favorites
Topics: Writing/Publishing, Historical Fiction, Creativity, Entrepreneurship, Christianity, Danish/English Immigration to the American West, Hebrew Writing Styles in Sacred/Holy Writ
Areas: Texas; Arizona, California, Idaho, Nevada, New Mexico; Denmark, England
Titles: Author & Historical Researcher, Business Owner, Financial Advisor/Guardian Park Avenue Securities
FEE, FREE

Info
Best-fit Audiences
Presentations
Bio
Testimonials
Books
Bestselling historical fiction author shares how to enrich your writing with colorful, historical details and turn your story into a novel fit for presentation to an agent or, if you choose, to self publish.
In a nutshell
Do you want to write or self-publish a book? Whether you're just starting your novel with an idea or crossing the publishing finish line, Steven D. Nielsen will guide you through the process, from researching, organization and writing, to learning the ins and outs of the self-publishing world. The author of the Amazon bestselling historical fiction series, Two Runs of Stone, Steven helps you stay motivated and inspired as you bring your book idea to completion.
Not sure if traditional or self-publishing is the way to go? Steven understands the variety of choices available to new authors, and his engaging, jovial presentations will lighten the process and make it fun! His passion for writing, research, and historical fiction is contagious and his own highly successful novels track the saga of Danish immigrants to the US in the mid 1800's.
"My writing highlights adventure and the human spirit through stories of history," says Steven, whose books tell the saga of how his family crossed the Atlantic Ocean, then built covered wagons to journey across the western plains and, as settlers, enjoy the American Dream. His talks help his audience understand the importance of knowing their own families' history, culture and origins and increases their sense of foundation and purpose in life.
Got writer's block? No worries. Steven will share his sure-fire method that works every time. The audience leaves Steven Nielsen's exciting presentations inspired to tell their own unique stories, and with all the tools they need to market or self-publish their own writing masterpieces.
Fast Facts
Steven stuck to a single writing project for almost 30 years and has seen it through to its successful completion and marketing!
He has published five novels, is working on two more, and recently launched his own company, Nielight Publishing.
A Latter Day Saint (Mormon), genealogy enthusiast and history buff, Steven is a proud patriot who served in the Army Reserve.

You'll learn how to…

Write short stories, novels and poetry and stay motivated

Use a sure-fire method to break through writer's block

Find an agent or self-publish your work with success and minimal capital outlay

Employ proven methods to help write, research and succeed in both disciplines

Expand your God-given talents

Use historical resources to authenticate your writing.

Seek out places and organizations to help promote your work
What people are saying… 
"I could not put it down! An exciting and wonderful novel—the Scandinavian history is incredible."
– Aileen J. Larsen, Past President of the Weber North Center Co. of the Daughters of the Utah Pioneers.
Books by Steven D. Nielsen
Two Runs of Stone: Full Circle
Two Runs of Stone: Wagons West
Two Runs of Stone: Heart's Desire
Two Runs of Stone: Windships America
Two Runs of Stone: A Beckoning Call
Best-fit Audiences
Writer's Groups

Genealogy Groups

Danish Scholar, Educators, Descendants

Danish Historical Groups

LDS/Mormon History Groups & Enthusiasts

Expos, Fairs, Retreats

Corporations, Non-Profits

Parties, Events of all types

Business & Civic Groups

Baby Boomers, Millennials

Seniors, Retirees

Community Organizations

Colleges, Universities, Schools, Youth Groups

Attorneys, Financial Planners, Investors

Parents, Educators

Tech/Electronics Specialists & Hobbyists

Political & Historical Groups/Associations

Churches, Synagogues, Religious Groups

Libraries, Museums
Presentations
Offered as keynotes, breakouts, seminars or workshops, retreats, trainings and webinars, and customized for your group. Steven D. Nielsen is also available as a panel guest or moderator.
Never a Better Time to Become a Published Author
Do you want to become a published writer? Would you like to weigh the pros and cons of traditional vs. self-publishing and decide which is best for you? In this fun, interactive presentation, Steven D. Nielsen shows how to self-publish your book and market it using social media, civic groups and community organizations. You'll learn the simple steps to publishing your own novel and hear how Steven went from a big-house publisher to starting his own publishing company, and why it isn't necessary to have a traditional publishing contract. You'll also explore all the new ways to promote your book using social media platforms such as Facebook,Twitter and YouTube, and how Wix.com, can do the publicity work for you as you focus on your writing.
From an Idea to a Final Draft…
Would you like to learn how to turn your concept into a novel or book series using simple, diligent, daily steps to reach your writing goals? You'll learn all this and much more in this informative talk as Steven explains how to use historical facts to add color and authenticity to your fiction/historical fiction. Knowing the history of a contemporary place can help your readers empathize with your characters and believe in the fictional world you're creating. Steven also shows you ways to to stay motivated and disciplined when everyday life and writer's block get in the way of your writing habits.
Highlighting Danish History for the Modern-Day Writer
For groups that focus on Danish and Scandinavian historical accounts and the preserving of their cultures.
Are you a writer, researcher or descendant of the Danish pioneers who settled in the United States in the 1800's? If so, this talk is for you. You'll learn the fascinating history of Danish Immigration to the United States and its effect on the migration to the American West. Plus, you'll learn how to use genealogical resources, including LDS (Latter-day Saints) records and others, to trace your own family's history.
Meet Steven D. Nielsen…
"I am an active financial advisor with over 32 years experience with Guardian Park Avenue Securities and also a history buff. Writing and research are my passions and I have five published novels to my credit, with three other novels underway. In 2016, my partners and I launched a publishing company we named Nielight Publishing. We plan to release many more titles under this label.
"I am still married to my high school sweetheart and we are parents of five adult children and thirteen GRAND children! I'm an American patriot, grateful to have served in the United States Army Reserve from 1963-1971. I'm active in the LDS faith with a strong testimony of God our Father and His Son the Lord Jesus Christ."
What people are saying…
"Great story! Factually and historically accurate. Good character development and ones you can root for… I was interested in the little-told story of Danish immigration. Look forward to the sequel."
– Diane B. Anderson
"I could not put it down! An exciting and wonderful novel—the Scandinavian history is incredible."
– Aileen J. Larsen, Past President of the Weber North Center Co. of the Daughters of the Utah Pioneers.
"A fantastic, historical page-turner. Educational, entertaining, and spiritual. Looking forward to reading the next volume in the series. Thanks!"
– Amazon customer
"Mr. Nielsen has written a real page-turner here…He has combined politics, romance and religion in an entertaining way. His description of people, scenery and activity with sights and smells puts you in the middle of the action and emotionally connects you with his characters. I am anxious to read the next volume to continue my journey with them." – J. McEwen
"I was impressed by the fact this series covered a multi-generational situation. A seemingly inconsequential gift was hidden for later to to be used as a life-saver in the future. I also noted it was real-life, not a pie-in-the-sky, if-you-have faith- everything-will-work-out story. I view it as a story of having faith to work through trials, not to have trials removed. Enjoy!"
– Amazon customer
Two Runs of Stone is a thrilling historical novel portraying Victorian Denmark and a wealthy milling family caught in a whirlwind of politics, monarchial and religious oppression, amid philosophical awakening and new thirst for basic human freedom.
Take a trip in time thru the grandeur of Copenhagen; sail the deep and powerful fjords of Scandinavia on billowing wind-ships; ride on velvet and leather upholstery in horse drawn carriages and surging locomotives; feel love blossom in wooded parks; walk the lush countryside waving golden grains ripe for the windmill's blades; finally listen as cannons roar, muskets fire and bayonets flash amid thick smoke on muddy battlefields. Meanwhile, observe as a breath taking necklace handcrafted by a master jeweler weaves a common thread throughout a saga rich in human spirit.
Sequels: Two Runs of Stone: Full Circle, Two Runs of Stone: Wagons West, Two Runs of Stone: Heart's Desire, Two Runs of Stone: Windships America